Erarta Membership
To explore Erarta permanent collection and temporary exhibitions you will need more than one day. Therefore, we recommend visiting Erarta once a quarter since our permanent collection is regularly updated, and our temporary exhibitions completely change every 3 months. It means that every 3 months you can visit brand new exhibitions at the Exhibitions Wing. A visit to Erarta museum once a quarter, keeps you posted with the most interesting and significant events of Russian contemporary art life!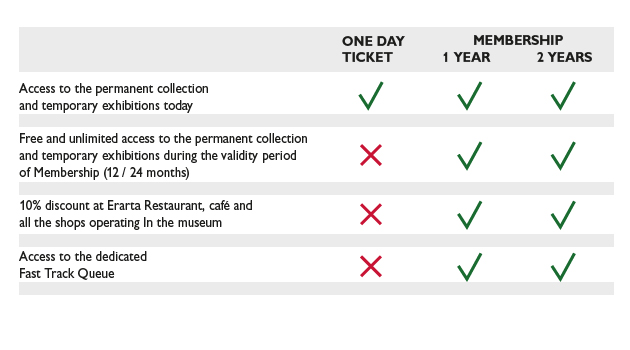 TYPES AND PRICES OF MEMBERSHIPS:
Adult within 1 year — 1000 rub

Adult within 2 years — 1750 rub

Family within 1 year — 2750 rub

Family within 2 years — 4750 rub

YOUTH — 650 RUB

YOUTH — 1150 RUB
Erarta has developed convenient and reasonable system of Membership that gives you:
Every year Erarta hosts more than 40 temporary exhibitions of both internationally renowned and beginning perspective artists and designers. By purchasing an Erarta Membership, you get unlimited access to the museum's permanent collection and temporary exhibitions during 12/24 months. And what is more important you receive unlimited access to positive and creative emotions that brings each visit to Erarta. See you in Erarta!
By purchasing a Membership you agree to be bound by these Terms and Conditions.
The membership card and all the privileges can be used right after purchasing, but before your personal card is issued you will be asked to present the temporary confirmation document, that will be given to you at the reception (or a printed pdf-file in the case of online purchasing).
FOR ALL QUERIES, PLEASE CONTACT
+7 812 324 08 09
NUMBER 2, 29TH LINE OF VASILIEVSKY OSTROV
ST. PETERSBURG, RUSSIA