Unique projects
ERARTA'S UNIQUE PROJECTS BRING PEOPLE CLOSER TO CONTEMPORARY ART
Erarta Museum doesn't just encourage creativity in others — it is also always exercising its own. Ideas for many unique projects were born within Erarta's walls and have been brought to life by working together with groups of artists and over time, have become our "calling cards" of sorts. Erarta's projects bring people closer to contemporary art and help everyone find something of their own in it. You can only discover the below at Erarta:
U-SPACE
floors 1, 2, 4, 5 – sessions must be booked at the reception
U-Spaces are total installations, each one with its own theme, which immerse the viewer in a particular world for 15-minute private sessions and enable one to experience certain feelings or emotions. We recommend experiencing a total of three during your visit – our staff will help you select ones that best suit your mood.
ART-ANIMATION
cinema halls, floor 3 – experience included in museum ticket
Short animated films transform static images captured on canvas into dynamic stories spanning in time, taking the viewer beyond the frames of paintings and showing them Erarta's museum collection from fresh angles.
THEATRE WITH NO ACTORS
floor 2 – sessions must be booked at the reception
The drama of art is showcased in the world's only multimedia play with characters of paintings, which are brought to life with voices, music, lights and other special effects. The play runs for 30 minutes in English language and has a maximum audience capacity of 20 people and can be ordered for a private performance at any convenient time of your choosing. There are special discounted times tickets for public performances at 13:00 and 19:30.
ART-LITERATURE
can be found on all floors of the museum wing
Works of art on exhibit are accompanied by short creative essays, which explain thoughts or emotions triggered by a particular work of art. These essays are written by our visitors (the best ones are published in Erarta's catalogues) – it's a completely open project in which you can also participate – email your submissions to lit@erarta.com.
AUDIO INSTALLATIONS
floor 1 – experience included in museum ticket
Audio installations, created and recorded by professional musicians, add the dimension of time to works in Erarta's museum collection. The soundtrack to art enables the audience to fully hear the extended story of a painting, of which only a fragment was captured by the artist.
Erarta EXHIBITION projects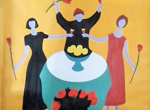 Showcasing contemporary art of Russia's various regions
Exhibition project
15 February, 10:16
From 17:00 to 20:00 the exhibition will be closed for a private view by Erarta Members
Announcements
13 February, 17:24
The exhibition will be closed to visitors from 10:00 to 22:00
Announcements
6 February, 14:22
Some temporary exhibitions, the café, and the passageway between the Museum Wing and the Exhibitions Wing on floor 3 will be...
Announcements