EXHIBITIONS AT ERARTA MUseum
The exhibition of Erarta's museum permanent collection (five floors of the Museum Wing of the building) rarely changes, with the exception of the recent acquisitions — the art exhibit there is updated every quarter. However, Exhibitions Wing of Erarta host new exhibitions every 3 months. It means that every 3 months you can visit brand new exhibitions. A visit to Erarta Museum once a quarter keeps you posted with the most interesting and significant events of Russian contemporary art life!
You can experience a wide variety of exhibition projects, such as Erarta museum's exhibition project "Russia in Erarta" which showcases talented contemporary artists from Russia's various regions, as well as mixed and solo exhibitions of both renowned and young contemporary Russian artists, international exhibitions etc. Purchase a One Day Ticket or Membership to visit these exhibitions. You can find out more information in the tickets section. 
To find out what's currently on at Erarta or to browse the future schedule, please visit the what's on section of the calendar.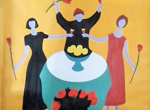 Showcasing contemporary art of Russia's various regions
Exhibition project
FOR ALL QUERIES, PLEASE CONTACT
+7 812 324 08 09
NUMBER 2, 29TH LINE OF VASILIEVSKY OSTROV
ST. PETERSBURG, RUSSIA
15 February, 10:16
From 17:00 to 20:00 the exhibition will be closed for a private view by Erarta Members
Announcements
13 February, 17:24
The exhibition will be closed to visitors from 10:00 to 22:00
Announcements
6 February, 14:22
Some temporary exhibitions, the café, and the passageway between the Museum Wing and the Exhibitions Wing on floor 3 will be...
Announcements